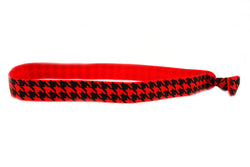 Houndstooth Red Elastic Headband (SKU 6029 HB)
Designed to keep your long hair under control and help you look stylish at the same time, One Up Bands elastic headbands won't pull out, dent, or damage your hair. Collect your favorite colors, and mix and match them with coordinating hair ties!
Chlorine and salt-water safe.