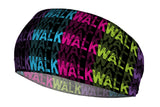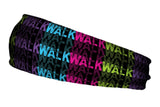 Walk Walk Walk Multi (SKU 9054 SB)
Designed for guys and gals, our stretch bands are constructed from a super comfortable, lightweight fabric. For active people everywhere, these headbands are perfect for thwarting that sneaky droplet of sweat before it finds its way into the corner of your eye. Wear it to the gym, office or classroom; Stretch Bands are fashionable everywhere!
One size fits all - MADE IN THE USA!