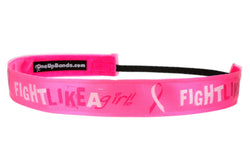 Breast Cancer Awareness Fight Like A Girl! (SKU 3181)
With several styles designed to increase breast cancer awareness, you can show your support every day of the week!
1" Width
All non-slip bands are available in our standard 20" and we also offer an adjustable band, which provides a range of 18-20.5"