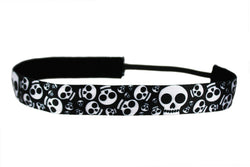 Skull Parade (SKU 1295)
One Up Bands' Non-Slip Headbands are available in hundreds of designs and a variety of widths and fabrics! They are perfect for active women and girls who need a no slip headband to keep the hair out of their eyes. All non-slip headbands are available in our standard 20" and we also offer an adjustable band, which provides a range of 18-20.5."
Want to represent your school, team, or business? Let us know. We can design your very own custom non-slip headband with minimums as low as one headband! Click here for more details.
Ultra comfortable, stay-in-your hair design
Velvet lining creates a 100% non-slip function
One size fits most
Hand wash, drip dry
Available in 1" and 1.5" widths
Standard strap - approx 20" circumference
Adjustable strap  - provides range of 18-20.5" circumference
1" x 17" (1") / 1.5" x 17" (1.5") - Ribbon dimensions
Velvet color may differ from image shown
Made in the USA!