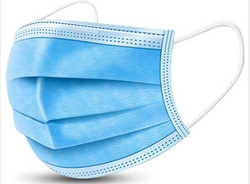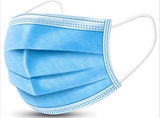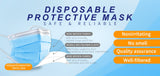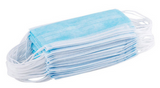 3 Ply Disposable Medical Mask
This face mask is made up of 3 layers of spunbond polypropylene which has soft layers that prevents skin irritation or allergy problems.

The ear loop material is made form the Latex free round Lycra elastic at 7.5" which elongates with a ratio of 1:2 making it easy to wear and remove with comfort. The malleable nose wire keeps the mask secure in its position.
Silicone free and non-particulating white OP band

Meltblown PU provides superior filtration

Hypoallergenic soft surface layers prevents skin irritation and allergy

Low breathing resistance
Pricing: 50 - $1.88/mask | 100 - $1.58/mask | 500 - $1.48/mask | 1000 - $1.38/mask | 2500 - $1.28/mask | 5000 - $1.18/mask | 10000 - $.98/mask | 20000 - $.88/mask